Mobile marketing is booming. More and more, the mobile phone is being used as a major marketing tool due to the popularity of the the IPhone and now the arrival of the Google Android enabled smart phones. The statistics are overwhelming.
The following statistic were complied by Microsoft and they are too important to be ignored.
Mobile Browsing Will Outstrip the Desktop Computer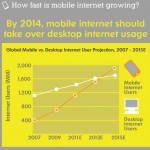 As the image shows, internet browsing on the mobile phone will exceed browsing on the desktop computer by 2014. Internet capable phones are now becoming the norm and it will only be a matter of time before a majority of people will have internet enabled phones. Couple that with increased bandwidth on our phones and it will be essential to have a mobile presence.
[divider]
Local Searches On The Mobile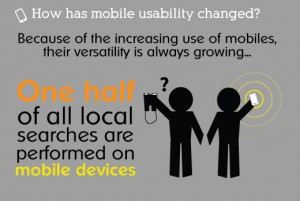 This will mean that searches for local services and products are going to utilised more often on mobiles. Due to the mobility of the mobile phone, people will conduct searches on the move to find what and who they are looking for.[divider]
Mobile And TV Viewing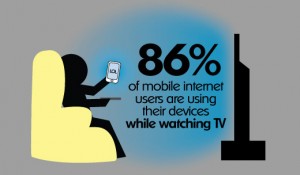 A staggering 86% of people who own phones have them with them whilst watching tv. This presents advertises with an amazing opportunity to utilise new technologies like tags and qr codes to present to viewers.[divider]
Mobile Phone Usage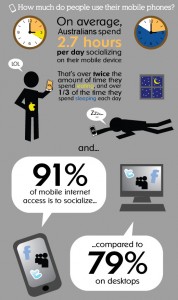 The mobile phone is now becoming the tool of choice for people to socialise. The ability to connect with social media on the mobile is making connectivity with friends online much easier, and it is already exceeding that of the desktop computer.[divider]
Social Media Use On The Mobile Phone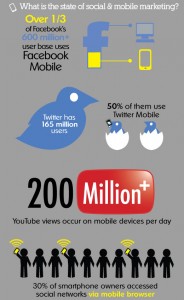 The statistics on social media are staggering. 1/3 of Facebook's users use Facebook mobile, 50% use twitter mobile and over 200 million videos from youtube are viewed a day.[divider]
The Most Active Users Are…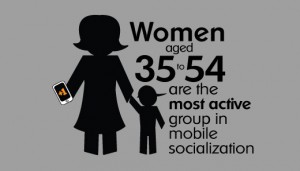 And the most active users of mobile socialisation are women aged between 35-54. Historically, women in this age bracket are the decision makers.[divider]
You Need To Have a Mobile Presence
If you are a small business…actually, a business of any kind, haveing a mobile presence is going to become an essential tool in your online arsenal. Conventional websites are too large to be viewed on the small screens of mobiles, so a mobile ready version is imperative. People are going to be searching for products and services using their phones and if you are in business, you will need a mobile ready site to satisfy the mobile phone browsers. Get ready for the next big thing, because it is already here.